Monarch Stack Removed
Click here to watch a time-lapse video of stack demolition.
Stretching three-hundred feet in the air on its nearly 22-foot-wide base, The Monarch Cement Company's stack could be seen from all directions. Over time, the stack became an iconic landmark for the company and community. As of Spring 2023, the stack can no longer be seen across the skyline.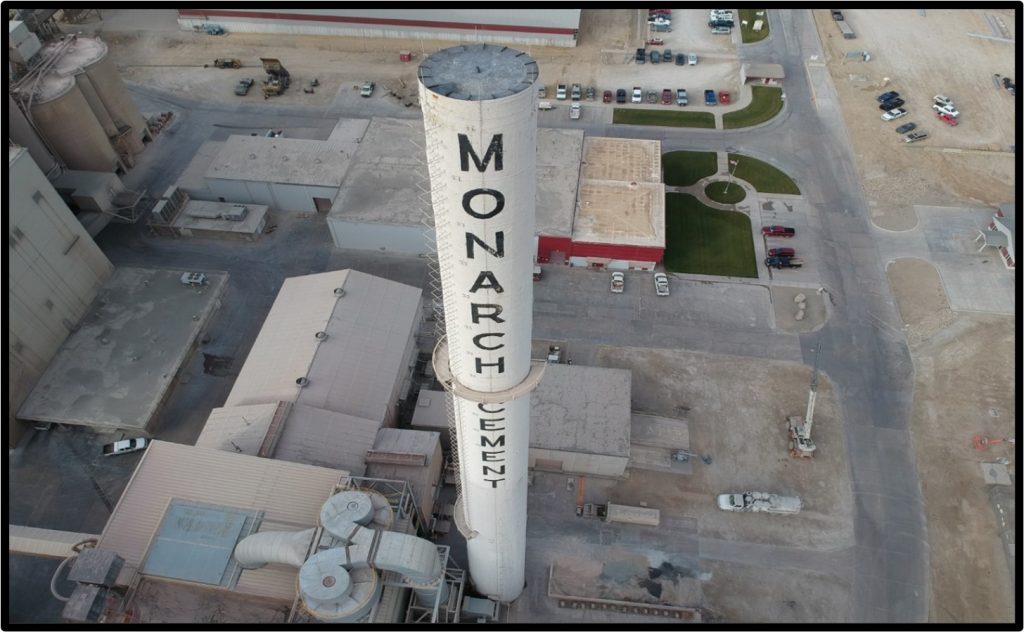 Custodis Construction began erecting the stack in mid-1948 through early 1949 as part of an eleven-year project to increase Monarch's cement production to 337,500 tons of cement annually. For over 73 years, the stack overwent numerous structural integrity and quality repairs due to age, lightning strikes, and exposure to Mother Nature's harsh elements. In 1980, the stack was shortened by 15 feet, and another 13 feet in 1995. Then, in early 2002, the stack was decommissioned, as it was no longer part of the company's production process.
Throughout the years following, Monarch preserved the structure of the stack by capping the top, repainting lettering, and major repairs to the exterior to maintain the integrity of the structure. However, in 2021 an inspection revealed significant issues which would result in substantial financial investment to restore the beloved company emblem. With a large increase in production and the need for additional blending, The Monarch Cement Company made a tough decision to demolish the stack and construct a new silo.
The Monarch Cement Company has proposed a new blending silo to stand where the 1945 stack once stood. The new silo will stand approximately 275 feet into the air and stand on a 53-foot base. The Company plans to place the lettering just as the original stack displayed, becoming the new icon of the company and community.